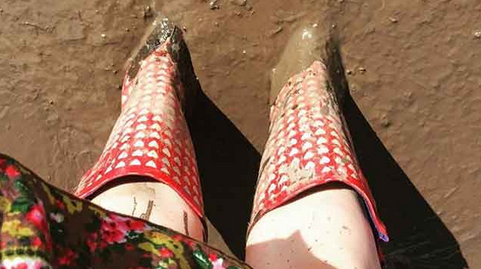 Using the Trendsmap application to find top stories in my area (Mackay, Qld) resulted in zero leads.  So I relaxed my search to Queensland, and to my surprise found trending, was the 'Splendour in the Grass' music festival that takes place in North Byron Parkland, NSW.  Even though this event isn't held in Queensland, it is important to note many festival goers migrate every year to the popular event from Queensland.
The relationship between the tweets and news stories in the local media seemed to serve two purposes; to entertain and to inform.  The popular element of the weekend was the sheer volume of mud and mud related shenanigans.  Channel 9 released a tweet renaming the festival 'Splendour in the Mud' – which had been a popular play on words for the event.  The second purpose, to be informative was shown in a tweet that Channel 9 released in regards to the good behaviour of the festival goers.   See below.
https://twitter.com/hashtag/9News?src=hash
This also doubles with how twitter is used in news stories.  Any one viewing the Tweet can also click on the shortcut of the tweet to be directed right to the news channel's website blog where they can read more on the topic.  This is an effective tool for the news to get their message out and giving the audience the option to follow through with the story at their own discretion.
Observing the Twitter page of Splendour in the grass illustrates examples of tweets being used by organisation to promote events.
SMH photography is an example of this – tying their services into the 'Splendour' event by offering festival goers to come to their gallery.
Short batch ice-cream took to Twitter as well to let people attending the festival that they would also be there.
From the way a trending story is integrated into the media landscape highlights effectively, media writing as a product.  Taking the music festival 'Splendour in the Grass' as an example (which is inhabited by the bohemian at heart), and to have not only a respected news channel doing the coverage, but by them also using social media in this way, not only keeps future generations engaged in the news, but also changes the landscape in the way we digest what is trending.